Call 07916 229 202 for a free quote from the experts

WINDOW CLEANING
Professional window cleaning services for
residential and commercial customers
Window Cleaning Wakefield
Get in touch with us today for a free window cleaning quote. Fill in our
online contact form here
. We are an organised and customer driven window cleaning service in Wakefield providing only the best to our domestic and commercial properties and customers.
We can provide regular cleans at your chosen frequency or one-off cleans to suit your needs. You can rely on us to be on time and professional.
Thompson Pro Cleaning offer both traditional and pure water fed pole cleaning methods and can provide interior window cleaning using the traditional method of window cleaning.
So, if you are looking to hire a window cleaner in Wakefield or the surrounding areas, get in touch with us today.
Wakefield Window Cleaners
Here at Thompson Pro Cleaning we provide residential window cleaning in Wakefield and throughout the wider area. This is normally done using the water-fed-pole window cleaning method but can involve traditional window cleaning using soap, a squeegee and a rubber blade.
Traditional window cleaning methods involve using soap on your windows and squeegeeing off with a rubber blade. We apply soapy water to your windows using an applicator and then remove with a squeegee. We will then detail around the edges of your windows and remove any remaining water with a microfiber cloth.
Commercial Window Cleaning
In addition to our domestic rounds, we also provide a window cleaning service to commercial clients in Wakefield. We are fully insured and can provide both method and risk statements on request. Furthermore, we understand the importance of your business's reputation and appearance hence why we always wear a uniform, are reliable and professional. We are more than happy to discuss your needs, so please get in touch.
Our commercial window cleaning includes schools, colleges, educational establishments, care homes, pubs, hotels, apartment blocks and offices.
Our other exterior cleaning services in Wakefield include conservatory cleaning, gutter cleaning, fascias, soffits and cladding cleaning.
We guarantee a quality job every time with competitive rates. Contact us on 07916 229 202 or via our contact page.
Get a Window Cleaning Quote Today
We just need a few details from you to accurately quote you and to enable us to get back to you. Please fill in as much information as you can below and we will be in touch as soon as we can.
Water Fed Pole Window Cleaning
Water fed pole cleaning involves using purified water to clean your windows with our extendible poles and brushes. Purified water goes through our professional filtration system to remove impurities and minerals. If you were to spray normal tap water on your windows it would leave dirty spots due to those impurities. With pure water, you are left with perfectly clean windows.
We spray the pure water on your windows and use the brush on our pole to scrub the window while rinsing at the same time with the pure water.
Some of the benefits of using our water fed pole are:
Being able to clean windows at height without using ladders, respecting your privacy and property.
Reaching those awkward to reach windows like those above conservatories or garages.
The ability to effectively clean all your UPVC like sills and frames.
No chemicals or soaps used.
Neglecting your windows for too long will allow environmental pollutants and chemicals to build up, on the glass. This consequently, leads to damage to seals, stains, possible leaking and big repair bills as a result. Having a regular window clean makes a huge difference to your property and will prolong the life of your seals and frames, therefore, reducing the risk of huge repair bills or leaks.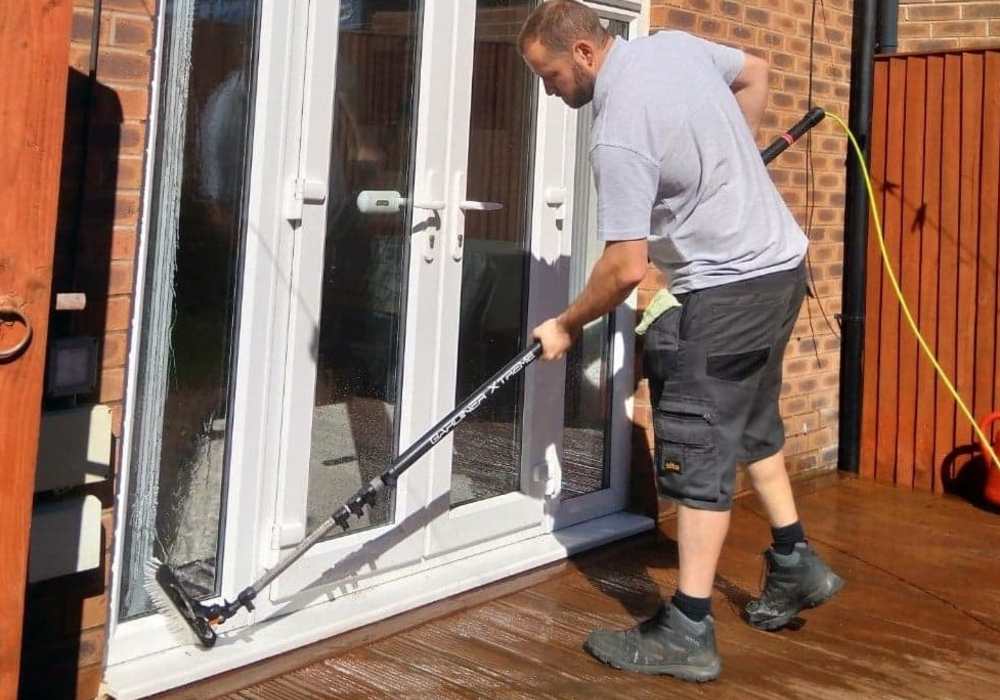 Why Choose Thompson Pro Cleaning?
We are very proud of our window cleaning service and will always do our best to accommodate our customers. We are reliable, experienced and professional. We are fully insured and will guarantee a quality window cleaning job every time. Thompson Pro Cleaning is the solution to all your window cleaning needs from regular window cleaning to one-off window cleans.
We offer the most competitive window cleaning prices in Wakefield. For a quote today please call, text or email using the contact us page and we will get back to you with a price.